Houses in the most attractive part of Vilnius Old Town
Vilnius, Senamiestis, Stiklių g.
The housing filled with the 16th century authentic spirit has tile roofing, a terrace for a leisurely breakfast, is surrounded by aromatic flowers and is impervious to the city noise. Here you will be able to play your favourite music loud and to relax. One of the most beautiful old towns in Europe is not just a dream. You can enjoy it whenever you wish – you only need to go outside the gate and you will find yourself in the heart of Vilnius on Stiklių Street.

A three level housing gives the feeling of complete freedom as it has enough space where everything has been well thought-out. Renovation which was carried out in 2014 has solved the problems of centenary buildings and has provided an opportunity for an architect Alvydas Šeibokas to implement a modern vision where history is preserved. The walls of the housing, which are fondled by an abundance of light, the authentic wooden framed windows, the flooring made of marble and natural wood accompany the Mid-Century style walnut furniture by an Austrian company TEAM7, the design of lighting and the charming old bricks of the building.

Aesthetics has been evenly retained from the practical perspective as well so as to make your daily routine a pleasure – luscious interior design perfectly accommodates household appliances, Bang & Olufsen audio and video solutions, autonomous, individually controlled underfloor heating.

The general purpose spaces on the first floor and the working rooms and bedrooms on the second and third floors are connected by a minimalist wooden staircase the natural beauty of which is emphasised by a handrail with lighting and white walls ready to take in the entire family gallery. As you descend, you are welcomed by the core of the old town housing – a fireplace which will always tempt you to spend more time here.

Although you can enjoy the towers of churches and the old roofs of Vilnius from your own home, if you leave the house, you will have a much wider cultural and gastronomic view of the city: the boutiques in the Senators' Passage, the fine dining restaurants for gourmets, the Glass Quarter, the Town hall Square, the National Philharmonic Society, theatres, museums and galleries.

The closed courtyard of the building is spacious enough to accommodate a children's playground and a parking lot.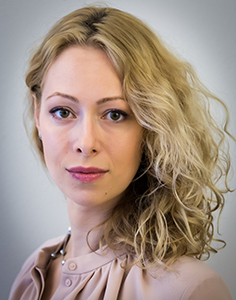 Egidija Bružienė
Baltic Sotheby's International Realty