An extraordinary investment in the heart of Vilnius
Vilnius, Senamiestis, Aušros Vartų g.
A newly renovated 269 sqm building awaits its new owners at the entrance to the city, next to the impressive National Philharmonic Hall on Aušros Vartai Street. Suitable for a representative office, an office, an apartment hotel or other business premises, or maybe for those looking for a home to live in.

The old architecture of the building was completely renovated in 2021, so it meets all the highest expectations and standards of a modern buyer. The building has smart home management, efficient ventilation and cooling system, modern gas heating, an elevator, a fireplace, renovated facade, new wooden windows, and new roofing. Top-quality materials have been used for finishing, construction and insulation.

The solid, minimalist interior design and layout created by the WALL architectural team allows the space to be adapted to different needs. The basement lounge area can be used as a space for wine tasting, gatherings, private conversations or an additional work area. On the ground floor, there is a reception area, a study or a library, and the meeting and office space extends up to the 4th-floor attic which can be reached by elevator. The cosy two-room apartments on the 2nd and 3rd floor can also be converted for work or rental purposes. An exceptional feature of the premises constant abundance of natural light, regardless of the floor. The interior is furnished down to the smallest detail: the spaces are furnished with furniture from renowned Italian and German manufacturers BB Italia, Minotti, Arflex, Lacividina, Sovet, Andreu World, and the bathrooms are decorated with Italian Alice, Cielo ceramics and Paffoni sanitary ware. The floors are covered with oak parquet and stone tiles. The spaces are decorated with artwork and stylish chandeliers, all in harmony with the authentic elements of the historic building.

The gated property covers 2.8 ares, with access through a gate from the street, and a modern home security system. The yard has a road barrier, three parking spaces and enough space for a charging station.

A rare opportunity to acquire a property that will retain its value, where only the pleasant concerns of settling in and destination ideas are left.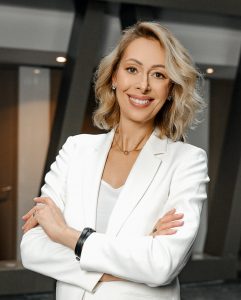 Egidija Bružienė
Baltic Sotheby's International Realty